Vacant Freehold Land
Offer Now Available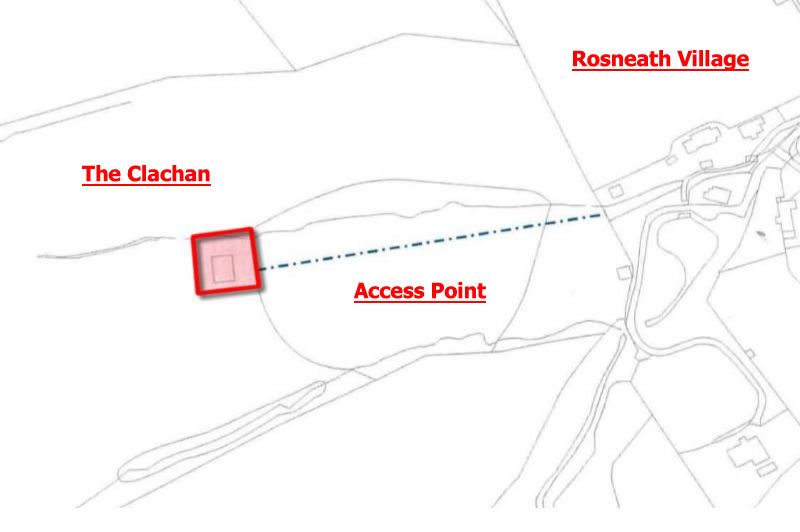 GO TO...
Map
Viewings
Auction Details
How To Bid
Key Features:
Concrete raised Scottish Water Tank extending to approx. 13.8m x 11.6m. Scenic Rosneath peninsula in Argyll and Bute. Tank is largely above ground. Enclosed site with a 2m fenced perimeter. OPEN VIEWS AVAILABLE
Located within an arable field. Former water tank within main site. Tank measuring approx. 12.4m x 14.1m x 4.5 metres in depth. Recent images of the site as per current layout
Elevated views from the main section over Stroul Bay, the surrounding countryside and also Rosneath Bay. Within close proximity to civilisation within Garelochhead, Faslane Naval Base and Rosneath
Rosneath is a picturesque village lying on the western shore of the Gare Loch, a truly unique site with development potential (subject to relevant consents). Access available directly onto site - Freehold Sale
SUPER SIZE with amazing views around *** Excellent location with development potential (subject to obtaining all necessary consents) *** Unique Location *** Friendly and welcoming environment
Ownership

Freehold

- Outright ownership of the property and land on which it stands.
Occupation

Vacant

- Full vacant possession offered at time of completion.
Full Details:
Rarely available 0.25 acres of land and former Scottish Water Tank located in scenic Rosneath peninsula in Argyll and Bute. Tank is largely underground and has grass covered roof. Located with-in an arable field. Vendor will consider early offers. Concrete tank lies approximately 100m to the east of the main site. Tank measuring 12.4 x 14.1 x 4.5 metres in depth. Magnificent scenery surrounding - minutes walk to shore front. Rosneath is well placed for access to the naval bases at Faslane and Coulport which are around 7 miles away. There is a newly refurbished Cooperative Store in the village as well as a Chinese takeaway. Located semi rurally close to Kilcreggan
Request More Details:
MORE INFORMATION
LEGAL DOCS & HOME REPORTS
Phone:
0141-632-6599
Email:
What is an Opening Bid...
This is the level that bidding will begin at for the auction. It is not necessarily figures which a property will sell for and may change at any time prior to the auction. Unless specified all properties are subject to a Reserve (minimum acceptable price).
Bidding at Online Auctions...
We have produced a specific guide for our timed online auction bidders. Please click on the following link to view the latest
Timed Online Auction Auction Bidders Guide
now. The Catalogue of Entries for a forthcoming auction is released in advance of the auction date. You can view the latest
ONLINE Catalogue of entries
on our website only once live.
Map & Location:
Located in Argyll and Bute, Rosneath is a picturesque village lying on the western shore of the Gare Loch near to the tip of the Rosneath peninsula which projects south to the Firth of Clyde and lies between the Gare Loch and Loch Long. Located on the Rosneath peninsula with stunning views. The Rosneath peninsula is located close to Naval base at Faslane, and within an hours drive of Glasgow. At Helensburgh both bus and train links to Dumbarton and Glasgow are available with trains travelling direct to Glasgow Central Station on a daily basis. The town centre has Tesco, WH Smith, Boots, Costa Coffee and an array of up-market boutiques and restaurants. Helensburgh is considered to be one of the finest market towns in Scotland and is a destination town for Glasgow Commuters. Picturesque village of Rosneath in the Rosneath Peninsula near Helensburgh. Rosneath lies approximately 44 miles from Glasgow by road
Viewings:
IMPORTANT NOTICE...
Due to Government advice on COVID-19 no viewings are currently possible. We advise all interested parties to follow social distancing rules for safety.
Auction Details:



Auction Date...

10 July 2020, 9am-5pm




Auction Location...

Timed Online Auction
Auction Catalogue...
Guide/Help with bidding...