CLOSING DATE FOR OFFERS on this property -
Friday 30th September 2016, 5pm
-
Click Here
to submit an offer now.
Cultybraggan former Nuclear Bunker, Comrie, Perthshire, PH6 2AB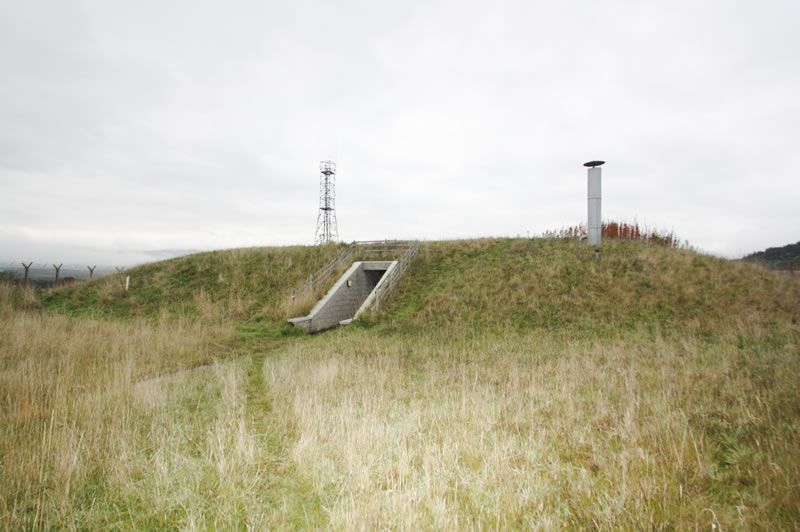 **EXTREMELY RARE LISTING**Former Regional government Nuclear Bunker over two floors built circa 1990
Extensive potential accommodation, approximately 26,000 square foot aimed to house 150 personnel
Ripe for change of usage subject to researching and gaining necessary consents: residential, commercial, data storage, museum all potentials
Almost 50 rooms including meeting room, kitchen, bbc studio, generator room and staff accommodation
Close to Historic Village of Comrie: rural in aspects, but within 2 hours drive of Glasgow and Edinburgh. **VIEWERS MUST ATTEND AT START TIME OF VIEWING**
This purpose-built RGHQ was constructed at Cultybraggan Camp, within the camp security perimeter and was completed in 1990 and is thought to be one of the last and most technologically advanced Bunkers ever built specifically in relation to the Cold War threat. The interior of the bunker is set over two levels. It is a vast structure; the upper level is dominated by a larger open plan room of 3,552 ft² with many smaller side rooms leading off (27 in total). The lower level, circa 13,300ft2 would have accommodated the living quarters; the original construction plans show dormitories, a hospital, a workshop, a large kitchen, and even a BBC recording studio (22 rooms in total). The bunker is served by an impressive array of life support systems, from air filtration plants, backup generators and water storage tanks. The design of the bunker is impressive as it was constructed in such a way to facilitate easy upgrading; all of the plant from the lower plant room can be hoisted out via removable concrete flooring and replaced. The property is located to the North of the Historic Cultybraggan Camp and is surrounded by a security fence. The camp is approximately 1.6 miles South of the centre of Comrie and 0.7 miles from the edge of the village, 27 miles West of Perth, 28 miles West of Dundee.
Internal Open Viewings Schedule:
Friday, March 14, 2014 : 9.30am -> 10.30am
Monday, March 17, 2014 : 9.30am -> 10.30am
Internal Open Viewings Explained:
This property will be open for internal viewings at the above dates and times. You do not need to register to attend these viewings, you can simply turn up as the property will be open during the scheduled times. Our viewing agent will be present to answer any of your questions and provide auction catalogues to viewers.
External Viewings Anytime:
You may view this property externally at any time. Please make sure that if the property is occupied or tenanted that you respect the privacy of the occupants. Additionally we advise that you print a copy of this schedule and take it with you in case of any neighbours questioning you at the property as to your intentions.
Offer Now:
You may submit an offer now on any of our live properties for the sellers to consider. If they are will are willing to sell you the property now then it is a matter of making the 10% deposit payment to secure the purchase. Complete our
ONLINE OFFER FORM
now to put your offer forward to the sellers.
Bid Live in Person:
Easily the best method is to attend the auction in person. The Glasgow Radisson is conveniently located in the Glasgow City Centre, a short walk from the Central Train Station and easily accessed from the M8 Motorway. The Edinburgh Marriott Hotel is conveniently located just minutes from Edinburgh Airport and the city centre.
Bid by Phone Live:
If you cant make the auction in person you can still make a live bid by telephone for this property. You will give instruction live over the phone with one of our staff in the room who will bid on your behalf and relay activity in the auction room. To register simply print off, complete and return the below form by email prior to 5pm of the auction day...

Download the Telephone Bidders Form


Bid by Proxy: (Ebay Style Highest Bid)
This is another option if you cannot make the auction in person. A Proxy bid is where you will leave your highest maximum bid for the property and the auctioneer will bid on your behalf. You will only ever bid one increment higher than the previous bidder. Proxy bidding rules out any potential issues with telephone reception or nerves regarding bidding in person or by telephone. To register simply print off, complete and return the below form by email prior to 5pm of the auction day...

Download the Proxy Bidders Form